Artist Tyler Kennedy '07 Reaches Milestone
June 27, 2010
June 27, 2010, Greencastle, Ind. — "Tyler Kennedy always loved to paint but didn't consider it his full-time career until recently," reports the Fort Collins Coloradoan. Kennedy, a 2007 graduate of DePauw University, tells the newspaper, "I hit the milestone of selling my 8,000th art print and decided this was probably my career. I didn't think it would happen."
Ashley Keesis-Wood writes, "To commemorate the sale, Kennedy has decided to hold a contest to name his new painting, with the winner getting a free framed print ... Kennedy is a 2003 graduate of Windsor High School. He self-published his first limited edition print during his senior year and then went on to attend Pepperdine University in California and DePauw University in Indiana."
Kennedy was a communication major at DePauw and graduated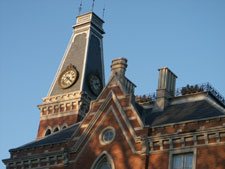 summa cum laude. The text notes, "Kennedy's preferred medium is watercolor gouache, which he describes as leaving the richer colors of oil painting ... He has always enjoyed painting animals, and since he lived in the Midwest for seven years, whitetail deer and horses have been featured more and more in his artwork."
Read more at the Coloradoan's Web site.
Back