Berra, Reardon Earn All-Region Honors; Reardon Selected to All-Freshmen Team
May 11, 2010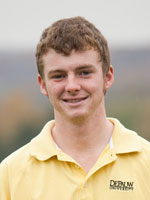 May 11, 2010, Hershey, Pa. — DePauw sophomore Ryan Berra and freshman Nick Reardon each were named to the 12-player Division III Ping All-Great Lakes Team. Additionally, Reardon was the top freshman in the region and one of six on the national Division III All-Freshmen Team.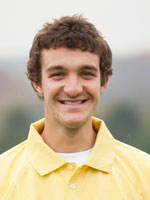 Reardon (left) was the team's leader with a 75.3 stroke average over 24 rounds. The all-Southern Collegiate Athletic Conference performer also shot the team's best round of the year with a 67 in the opening round of the Camp Lejeune Intercollegiate.
The Dublin, Ohio, resident took medalist honors at three tournaments this season as he won the Franklin Invitational, the Katman Klassic and the Rose-Hulman Invitational. He also had a second place finish at the big Four Classic and eight top 10 finishes in 11 tournaments.
Berra (right) was second on the team with a 76.5 stroke average over 24 rounds. The St. Louis, Mo., resident finished in the top 10 in six of the 11 tournaments in which he competed with a best round of 71 at the Butler Fall Invitational and the Camp Lejeune Intercollegiate. He finished fourth on three occasions including at the Anderson Fall Invitational, the DePauw Small College Classic and the Katman Klassic.
Follow DePauw Athletics on Twitter | Become a Fan of DePauw Athletics on Facebook
Back