Volunteer Efforts of Katy Keck '77 Create "Meaningful Change"
July 2, 2010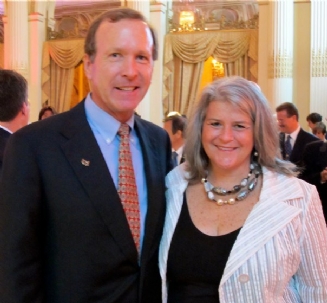 July 2, 2010, Greencastle, Ind. — "Katy Keck believes that every child needs a mentor, and is working hard to make that a reality," notes an article posted at FOX Business. Keck, a volunteer leader with Infinite Family and 1977 graduate of DePauw Universiity, was honored this week with a Daily Point of Light Award from Points of Light Institute. Infinite Family "connects teens and pre-teens in South Africa with adults internationally, using online video-based mentoring."
The text adds, "Keck has been the lead volunteer for Infinite Family since it began. With her professional background in event planning, she has produced all the organization's fundraising events. For each event, she pulls together a large group of volunteers and dozens of sponsors and in-kind donors.
Over the course of three years, her efforts generated more than $200,000 in donations. As a young organization, IF benefits from Keck's leadership in fundraising, developing marketing and communication tools, and her ability to recruit volunteers and mentors. Through her leadership, Katy Keck has inspired her friends, family and business partners to become active change agents, positively impacting youth in South Africa."
Established by former President George H.W. Bush, the Daily Point of Light Award honors individuals and groups creating meaningful change in communities across America. Keck, a former member of DePauw's Alumni Board, was presented with the award by Neil Bush (seen with Keck in top photo) on Monday at the 2010 National Conference on Volunteering and Service in New York City.
Read more here, or access this previous article.
Back