Management Fellows Aid Greencastle with 'Project Ignition'
July 4, 2010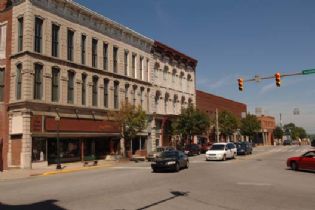 July 4, 2010, Greencastle, Ind. — Greencastle's Project Ignition Inc., a new initiative designed to aid small businesses in Putnam County and stimulate economic growth, "was developed over the past year by a Greater Greencastle Chamber of Commerce subcommittee, with the help of DePauw University and local business leaders," notes an item in the Banner-Graphic. "The goal is to encourage and assist entrepreneurs with starting or growing their business, as well as supporting existing small businesses in the community. Working together will facilitate economic development -- the main objective of GPI."
The text notes, "GPI collaborates with DePauw University and its Management Fellows program (whose graduates include Angie's List co-founder Angie Hicks and Butler men's basketball coach Brad Stevens), as well as the Greencastle / Putnam County Development Center."
Bethany Harrod, a Management Fellow who will be a senior at DePauw this fall, serves as assistant director of the initiative. "This is a community with tremendous resources, not the least of which is one of the nation's top liberal arts colleges," she is quoted in the article. "Combining the energies and brainpower of students and citizens creates powerful possibilities as we look to create new engines of opportunity and enhance the 173-year history that Greencastle and DePauw share."
Read more at the newspaper's Web site.
Back