DePauw's 'Move Out' Project Met "Huge Need" in Local Community
July 8, 2010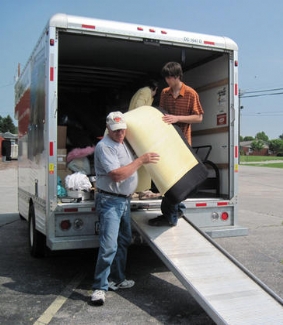 July 8, 2010, Greencastle, Ind. — A DePauw University project "met a huge need for families who are very much struggling in this economy," says Cari Cox, director of Putnam County Family Support Services. She is quoted today in a Banner-Graphic story which examines the success of the second annual "Move Out Initiative," which collected items that were no longer needed by DePauw students at the end of the academic year and re-distributed those items in the local community. Eleven families and seven agencies were beneficiaries of the drive.
"When a lot of students move out from DePauw, a lot of materials go to waste -- futons that just wouldn't fit in the car or a mini fridge you needed in your dorm room that won't fit in your new apartment," says Missy Orr, a sustainability intern at DePauw and a 2009 graduate of the University. Orr coordinated the effort, with assistance from the Greencastle Sustainability Commission and the DePauw Environmental Policy Project.
Amanda Junk writes, "Cox said she was personally thrilled with the number of towels, washcloths and bedding items collected as part of the program. Orr said among other items, Move Out was able to gather 25 blankets, 50 pillows and 11 futons."
"It really has turned into a successful, whole
community initiative," Orr tells the newspaper. "It's great to work as a total community towards the betterment of the community," she said. "We would love to see it turn into a longstanding tradition."
You'll find the article at the Banner-Graphic's Web site.
Learn more about Move Out Day 2010 by clicking here.
Back