Profs. Greg Schwipps '95 and Micah Ling '03 are Finalists for Indiana Authors Award
July 8, 2010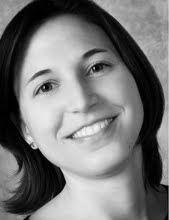 July 8, 2010, Greencastle, Ind. — Two DePauw faculty members who are also alumni of the University -- Micah E. Ling '03, part-time assistant professor of English, and Greg Schwipps '95, associate professor of English -- are finalists for the 2010 Eugene and Marilyn Glick Indiana Authors Award in the "emerging" category. The $5,000 prize is for an emerging writer with just one published book. In addition, each author's Indiana hometown public library will receive a grant of $2,500 from the Marion County Library Foundation. (at left: Professor Ling; below right: Professor Schwipps)
Presented by the Library Foundation, the awards seek to recognize the contributions of Indiana authors to the literary landscape in Indiana and across the nation. The program is funded by the generosity of the Glick Fund, a fund of Central Indiana Community Foundation. The winners and finalists for the regional and emerging categories will be recognized at an October 9 awards dinner at Central Library in downtown Indianapolis.
Susan Neville, professor of English at Butler University and 1973 DePauw graduate, was the winner of the 2009 Indiana Authors Award in the regional author category.
Greg Schwipps, author of What This River Keeps, was also a finalist for the award last year.
Kent Haruf, author of Plainsong declared, "What This River Keeps bears comparison to the best work of Steinbeck." Schwipps' creative nonfiction articles and essays have appeared in outdoor magazines such as Outdoor Indiana, Indiana Game & Fish and In-Fisherman. "A lifelong fascination with fishing and rural living has deeply influenced his life and work," notes the award program's site. Schwipps was an English writing major at DePauw and earned an M.F.A. in creative writing from Southern Illinois University.
Micah Ling authored the poetry collection Three Islands, which was published in September 2009. A second collection, Sweetgrass, is due out in November. "When Micah Ling decided that she wanted a small-campus college experience,

she found DePauw University in Greencastle, Indiana," according to the Indiana Author Awards online bio. "After graduating from DePauw as an English major, she moved just down the road to Bloomington, Indiana. Ling earned her M.A. in 20th Century American Literature and her M.F.A. in poetry at Indiana University. Ling has taught in the English departments at Indiana University, Butler University, DePauw University, and Franklin College. She is currently teaching part-time at both DePauw University and Franklin College. She just recently taught for the 2010 Indiana University Writer's Conference in Bloomington, Indiana."
Read more by clicking here.
Back