Indy's "Cheerleader," Molly Chavers '98, Profiled in Star
July 18, 2010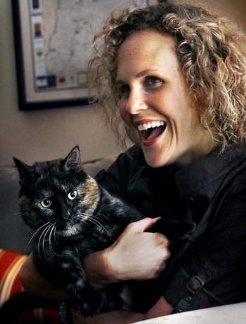 July 18, 2010, Greencastle, Ind. — "After graduating from college, many young professionals leave Indianapolis in search of jobs in bigger cities with an active cultural and nightlife scene. But Molly Chavers is working to keep them here," begins a feature in today's Indianapolis Star. "As CEO of IndyHub, an independent networking organization, the 34-year-old Chavers is like Indy's own personal cheerleader. She constantly touts the benefits of living and working in Indianapolis, and is helping the city's young professionals become patrons of the arts." (photo: Frank Espich/Star)
Chavers, a 1998 graduate of DePauw University, tells the newspaper, "I spent a semester in Washington, D.C., when I was in college. I always had an interest in law and government. After my semester in D.C., it (politics) really felt like the place for me to start. I started in Gov. (Frank) O'Bannon's office in an administrative role . . . I really got to hone my fundraising skills . . . It was a much more relaxed environment, but it was very intense at the same time. I liked the fast pace of politics, but I think I had a shelf life."
Of her role at IndyHub in engaging young people in the arts community, Chavers says, "It's the next generation of leadership. If you're not starting now by getting young professionals and young creatives integrated and passionate about that community, they're not going to feel connected to that city."

Read the complete piece at IndyStar.com.
Learn more about Molly (Wilkinson) Chavers in this recent article.
Back