Barbara Kingsolver '77 Prepares to Begin Work on Next Novel
July 22, 2010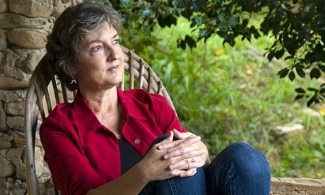 July 22, 2010, Greencastle, Ind. — A Reuters article on Barbara Kingsolver, author and 1977 graduate of DePauw University who recently won the U.K.'s prestigious Orange Prize, notes, "There were nine years between her last two novels, but Kingsolver said readers won't have to wait that long for the next one." Sharon Lindores reports, "After a few more engagements in the U.K. and a holiday in Ireland with her family, Kingsolver will return to her farm and her writing."
"I was more surprised to win than anyone," Kingsolver says of winning the Orange Prize last month for her latest book, The Lacuna. "I never really expect to be successful."
Lindores adds, "The author of 13 books including six novels, poetry, short stories, non-fiction and essays, Kingsolver has been lauded as one of the most important writers of the 20th Century by Writers Digest, as well as being a finalist for the Pulitzer Prize ... Kingsolver put most of the 30,000 pound ($46,000) Orange Prize money into the Bellwether prize she set up in 1999 for an unpublished work of fiction in North America. This year's winner is Naomi Benaron for her novel Running the Rift, which will now
be published. For Kingsolver it's a way to pass on the support and encouragement she's received along her journey."
Access the complete text -- "Award-winning Kingsolver ready to start new novel" -- at the Washington Post's Web site.
At DePauw, Barbara Kingsolver majored in zoology (biological science). She told PBS of her undergraduate experience, "I found myself surrounded by peers who loved the same things that I did, people who loved ideas and books. I started reading purposefully things that I thought would teach me about the world."
In 1994, Kingsolver delivered the commencement address at DePauw, and was also awarded an honorary degree during the ceremony. A summary of her speech can be found in this previous story or listen to an MP3 of the complete address:

[Download Audio: "Barbara Kingsolver's 1994 Commencement Speech" - 10,044kb].
Back