Experiments Using Balloons Demonstrate "Science in Action," Says Prof. Howard Brooks
July 23, 2010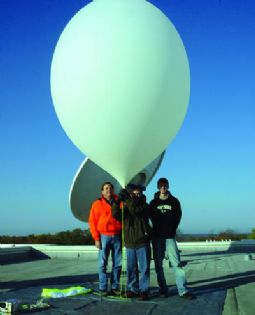 July 23, 2010, Greencastle, Ind. — The increasing use of weather balloons in experiments conducted by scientists and hobbyists is the subject of an article which notes, "Some schools, in fact, are already getting in on the action. For example, DePauw University in Greencastle, In., features a Balloon Assisted Stratospheric Experiments (BASE) program, which involves working with students from the university and nearby K-12 schools to design and build experiments with helium weather balloons," writes Samantha Murphy.
Howard L. Brooks, Paul B. Kissinger Professor of Physics and Astronomy at DePauw and chair of his department, is quoted: "It's exciting for students to see science in action. Some experiments fail, while others
give really surprising results. Either way, it's a great way to show students that science can be fun."
Access the piece by clicking here.
Learn more about the BASE program in this previous story.
Back