This Year's 'Kid's Best Friend' Basketball Camp Has Special Meaning for Coach Mary Smith
July 22, 2010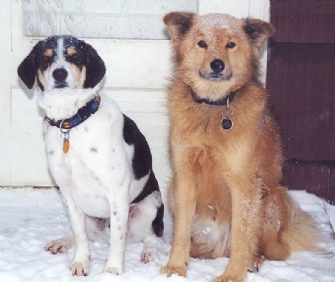 July 22, 2010, Greencastle, Ind. — "When DePauw women's basketball assistant coach Mary Smith arrived in Greencastle several years ago she came upon a number of stray dogs who were in need of homes," begins a story in today's Banner-Graphic. "She was fortunate to place several dogs in loving homes, and two dogs she opened her own heart and home to were puppies Jake and Tanner, and later Grace. While she knew at the time she couldn't properly care for any more dogs, she also realized the pet overpopulation problem needed additional help. Thus, with her three puppies serving as the inspiration, the Kid's Best Friend Basketball Camp and resulting spay/neuter program began."
The article notes that the DePauw women's basketball program will hold its 14th annual Kid's Best Friend Camp from July 26 - 28. The program is open to boys and girls from pre-kindergarten through the 10th grade. "Due to the generosity of sponsors, and a volunteer staff, all of the camper tuition money will once again help reduce spay/neuter fees for Putnam County pets. To date, over 1,150 pets have gone through the program."
This year's event will be poignant for Smith, whose dogs Jake and Tanner (pictured at the top of this piece) passed away earlier this year.
"I envision a gym full of kids, and if that happens, what a perfect way to thank and honor Jake and Tanner," she tells the newspaper. "They were two great guys who indirectly did a lot of good in our community. The camp has always been about them, and from now on it will be in name, also."
Read more at the Banner-Graphic's Web site or contact Kris Huffman, head women's basketball coach at DePauw, via e-mail or by calling (765) 658-4960.
Back