Prof. Jeff McCall '76 Weighs in on President Obama's Visit to The View
July 28, 2010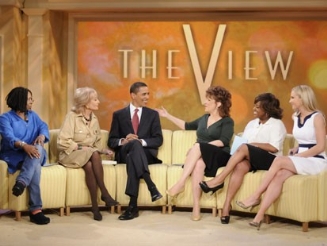 July 28, 2010, Greencastle, Ind. — "President Barack Obama's chat with the ladies of ABC's daytime talk show, The View -- taped Wednesday for air on Thursday -- has got more than a few media mavens, brand experts and public relations pros in a tizzy," reports the Christian Science Monitor. Gloria Goodale writes that "the risks inherent in an extended, informal face-to-face with such unpredictable hosts as Barbara Walters and Whoopi Goldberg may outweigh any benefits to be gained from the unprecedented strategy, says DePauw University professor Jeff McCall."
The article continues, "Such appearances, says Mr. McCall, do carry some risk of having the president let his guard down and saying something casually that doesn't come off well, as happened with his Special Olympics gaffe on Jay Leno's Tonight Show in 2009."
Goodale notes that George W. and Laura Bush appeared on Dr. Phil during the 2004 presidential campaign. Obama visited The View in 2008 (seen in top photo) while a U.S. Senator.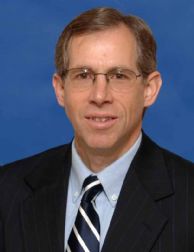 Dr. McCall, a professor of communication at DePauw and 1976 graduate of the University, tells the Monitor,"Ultimately, I am not sure presidential appearances on daytime chatfests or even late night talk shows help to elevate the national political dialogue, but they clearly show that the boundaries between news media and entertainment media continue to dissolve."
You'll find the full text -- headlined "Obama on The View: ratings blockbuster or presidential epitaph?" -- here.
A 1976 graduate of DePauw, Jeffrey M. McCall is the author of Viewer Discretion Advised: Taking Control of Mass Media Influences and has been cited in articles published by more than 100 newspapers. The professor recently authored an op-ed on cameras in the U.S. Supreme Court, accessible via this story.
Source: Christian Science Monitor
Back