Vernon Jordan '57 Speaks at National Urban League's Centennial Convention
July 29, 2010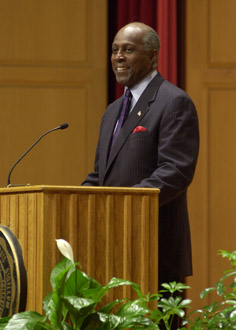 July 29, 2010, Greencastle, Ind. — "Black people still -- in 2010 -- have to go to work earlier, stay later, work twice as hard, to stay even," Vernon Jordan declared as he delivered the keynote address to the opening session of the National Urban League's 100th birthday celebration. Jordan, a 1957 graduate of DePauw University, "served as League president for 11 years until 1982 and is now its elder statesman," notes an Associated Press summary of his remarks.
"Black buying power in 2008 was $913 billion, and is projected to reach $1 trillion in three short years," Jordan noted, adding,"Today more black men are in jail than in college….Go back to the 1980 Census and you will find that there were three times as many black men in college as there were in prison; but by the 2000 Census it had flipped."
A close adviser to President Clinton, Jordan acknowledged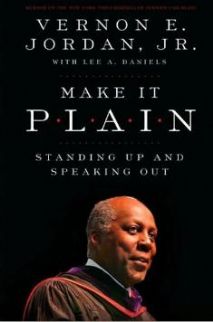 that there are many more African Americans in board rooms and holding public office than there were 40 years ago, but the unemployment rate is approximately 50% higher for blacks than it is for whites.
The four-day centennial conference is taking place in Washington, D.C.
Read more by clicking here.
Vernon E. Jordan Jr., a 1957 graduate of DePauw University, is senior counsel at Akin Gump Strauss Hauer & Feld LLP and senior managing director of Lazard LLC. He is an advisory member of DePauw's Board of Trustees and has authored Vernon Can Read!: A Memoir and Make It Plain: Standing Up and Speaking Out. (at left: Jordan receiving DePauw's McNaughton Medal for Public Service; May 22, 1993)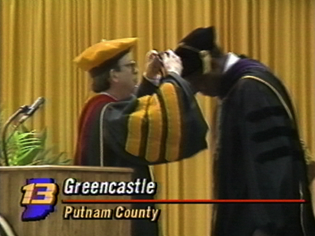 In December 2009, Jordan was one of eight individuals presented with the Du Bois Medal, the highest honor awarded by the Harvard University Institute of Politics' W.E.B. Du Bois Institute. He's also been honored with the Spingarn Medal, the NAACP's highest honor for achievement, and the Trumpet Award.
On June 9, 2007, Vernon Jordan delivered the silver anniversary address at his Class of 1957's 50th reunion. He also addressed DePauw's Class of 1993; the video is embedded below.
Back