NFL's Joe Thomas Recalls Days as an Assistant Football Coach at DePauw
December 16, 1971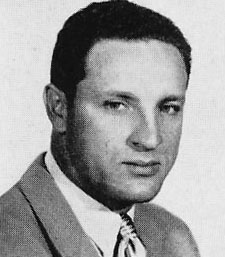 December 16, 1971, Greencastle, Ind. — "Years ago when I was a coach at DePauw I took an insurance course," Joe Thomas, director of player personnel for the National Football League's Miami Dolphins, tells Sports Illustrated. "Passed all the exams for Equitable Life, I learned a lot about the pulse of a prospect from that course. When to pull back, when to clamp down." (at left: Thomas as seen in the 1950 Mirage; below: Thomas with fellow Tiger coaches in 1948)
From 1948 to 1952, Thomas was an instructor in physical education at DePauw and coached freshman football, basketball, and baseball.
Of Thomas, who was previously head of player personnel for the Minnesota Vikings, John Underwood writes, "He shops at colleges and universities, large, small and unheard-of ... He shops at bowl games, all-star games and common everyday practices for the Who who can run 40 yards in 4.4 seconds or ram a wall hard enough to put a crack in it or throw a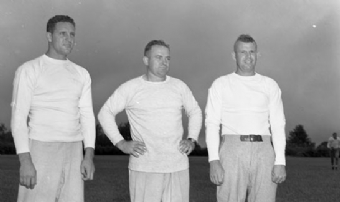 football through the crack. As he did at Minnesota, Thomas has come up with the players -- Bob Griese, Larry Csonka, Jim Kiick, et al. -- who have made the Dolphins a championship contender in a very short time, a snap of the lingers compared with the years others have spent in places like Pittsburgh."
The piece adds, "In Thomas' fourth year at Minnesota, the Vikings tied for second in their conference and challenged for the title. In 1965, when Miami was granted a franchise in the AFL, Thomas was the first man hired by Joe Robbie," reports Underwood. "In the Dolphins' fifth year, under the fresh leadership of Coach Don Shula, the Dolphins made the conference playoffs and are strong Super Bowl contenders now. The Miami lineup is a testament to Thomas' drafting ability, his consistency in making first-round choices count (Griese, Csonka, Offensive Tackle Doug Crusan, Defensive End Bill Stanfill), his ability to draft quality in depth."
The SI piece notes, "The second son of an immigrant Yugoslav steel-mill worker from Warren, Ohio, Joseph Henry Thomas, age 49, has looked at football from all sides now. and at all levels. He played end at Ohio Northern U.,
from which he was graduated in 1943. He went on to get his master's in education at Indiana, and to coach there under Bernie Crimmins after logging time at DePauw and in high schools at New Albany and Rensselaer, Ind. He coached both football and basketball. At Great Lakes, where he was stationed during World War II, he jogged with Glenn Cunningham to keep in trim, and got to know Paul Brown and [Weeb] Ewbank. When Ewbank took the job with the Colts, Thomas was hired." (1950 photo, l-r: Thomas, Charles Erdmann, Gaumey Neal, Jay McCreary and Mike Snavely)
You'll find the complete story by clicking here.
Back