Tablet or iPad? Prof. Dave Berque Offers Thoughts in Campus Technology
August 5, 2010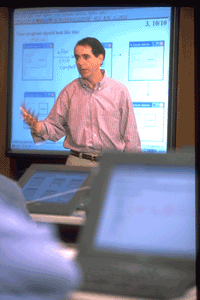 August 5, 2010, Greencastle, Ind. — A Campus Technology article examining whether iPads will replace traditional tablets includes analysis from a DePauw University faculty member. The magazine's John K. Waters writes, 'During a recent onstage interview at the annual D8 Conference with the Wall Street Journal's Walt Mossberg and Kara Swisher, Steve Jobs dismissed the stylus-driven interface as inefficient ... Jobs was reportedly comparing stylus-as-mouse input to the touch of a human finger, and in that, he may have a point. But in higher education, the stylus has become essential, says Dave Berque, professor of computer science at DePauw University in Greencastle, IN."
Dr. Berques notes, "There are a lot of classes where the content of the course is hard to express with a keyboard. Molecules in a chemistry class, for instance, or graphs in an economics class, or characters in a Japanese language class, and even certain types of data structures in computer science
classes. There are a number of disciplines where keyboard input is too awkward or impossible."
The story notes, "Berque and his students began using HP 2710p tablet PCs several years ago to take notes, solve problems, and share solutions. The school has continued to upgrade the devices regularly as part of its 1-to-1 computing program, and currently offers the multitouch HP 2740p tablet PC. 'The tablets give us the best of both worlds,' Berque says. 'We haven't lost the keyboard; we've gained the stylus as a secondary input mode. We really need them both.'"
Professor Berque is an iPad owner but, when it comes to it and the traditional tablet, "They're two different devices." And he questions Jobs' assertion on the finger. According to Berque, "The finger is a perfectly good thing for selecting content, but if you're trying to input content-trying to draw a diagram, for example-there's a huge difference. You just don't get the same accuracy with the fingertip."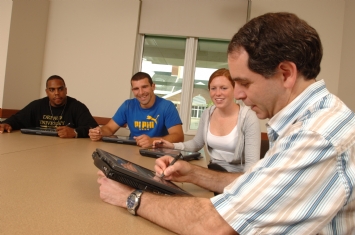 You'll find the complete story," Style but no Stylus," at the publication's Web site.
Dave Berque's work at DePauw led to the development of pen-based technology, now known as DyKnow Vision, that is being used in classrooms around the nation. The professor received the 2007 Mira Techpoint Award for "Education Contribution in Technology - Individual" for his efforts to create the software.
The professor was profiled on Indianapolis' WISH-TV in October 2006 and was recognized in 1997 as the Carnegie Foundation for the Advancement of Teaching Outstanding Baccalaureate Colleges United States Professor of the Year. See a video featuring Dr. Berque here:

[Download Video: "Dave Berque - Professor of the Year" - 7427kb].
Source: Campus Technology
Back