Three Professors Win Indiana Arts Commission Grants
August 6, 2010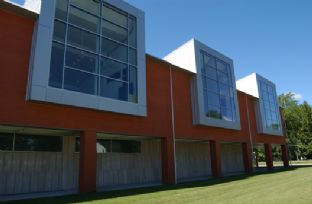 August 6, 2010, Greencastle, Ind. — Three members of the DePauw University faculty are the recipients of grants from the Indiana Arts Commission's Individual Artist Program. The winners are Cynthia O'Dell, University Professor and associate professor of art; and Barbara Fields Timm and Peter Williams, both part-time assistant professors of art.
The IAC created the program in 1999 to provide support to artists in all disciplines for career development projects. A total of 140 applications were received for grants for fiscal year 2011; 53 were funded.
With her grant , "Cindy O'Dell will create a new photo/video installation titled 'First Breath, Last Breath' which will interweave photographs, audio and video of the death of her father and the birth of her daughter," notes an announcement from the IAC. "O'Dell's goal is to move beyond flat photographic works, to create art based in three-dimensional, multi-media, immersive environments. By adopting this new format she hopes to enhance the viewer's ability to empathize with the subject matter and create a greater emotional impact."
Of Timm's project, the IAC states, "After attending an encaustic painting workshop in
Santa Fe, Barbara will use this grant to purchase supplies and equipment to pursue encaustic painting. The final stage of her project is the creation of a series of five encaustic landscapes based on her exploration of Indiana environments."
Professor Williams' project, "Explosion of a City," "is a multimedia installation artwork that poetically interprets the rapid political, cultural, social and economic changes taking place in Beijing, China. The project incorporates an experimental-documentary approach, with photographs, audio, generative animations and sculptural elements."
Read more by clicking here.
Back