Jordan Havercamp '10 Cast in New Kurt Russell Movie with Football Theme
August 10, 2010
August 10, 2010, Greencastle, Ind. — Jordan Havercamp, a 2010 graduate of DePauw University whose 47-yard field goal won the thrilling 2007 Monon Bell Classic for the Tigers, has made the cut for a Hollywood picture starring Kurt Russell. WZZM-TV of Grand Rapids, Michigan, notes that Havercamp is among 38 football players selected to appear in Touchback, which stars Kurt Russell and is filming in Michigan.
"More than 1,200 football players came from across the country to Coopersville High School for a shot at a role on the field," according to the station's report. "In the end, the studio responsible for casting the movie filled roles with just 38 players. Producers made it clear that they were looking for real players with quality experience. They required players trying out to be between ages 18 and 30 and could not be seeking NCAA eligibility."

The text adds, "The movie will star Kurt Russell as a down-on-his luck high school coach getting a second chance at life." The article notes that Havercamp played collegiately at DePauw and will be a member of "Team Coldwater" in the movie.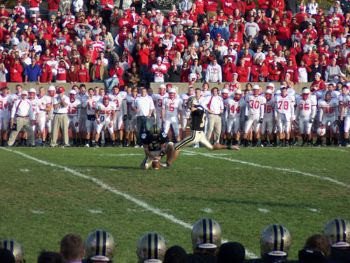 Filming begins Friday night.
Read more by clicking here.
Access the 2007 "Monon Memory," and see Havercamp's long boot as time expired, here:

[Download Video: "2007 Monon Memory" - 7808kb]. It was an ESPN "Play of the Day" and was dissected in a 2008 television feature story.
In the Spring of 2009, Jordan Havercamp served as a golf coach at Park Tudor High School in Indianapolis. Details can be found in this article.
Back