New Community Portal Offers 'One-Stop Shop' for Information about University Events and Offerings
August 11, 2010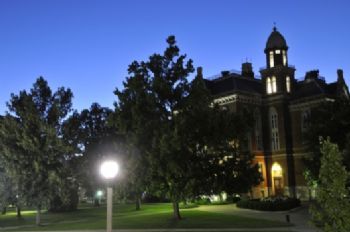 August 11, 2010, Greencastle, Ind. — A one-stop shop for local residents on all things DePauw-related. That was the goal for a group of DePauw students who spent the better part of an academic semester exploring the connections between Greencastle and DePauw.
"A major source of confusion seemed to be where to go for information about events and services that were available and open to the public on the DePauw campus, particularly for those with no direct connection to the University," said Brendan Belz '10, one of the students who worked on the project.
The desire to end that confusion led a group of Management Fellows to create the new Community Portal, a Web site with content designed to cut through the clutter: a calendar of public events including concerts, athletic events and lectures; information about academic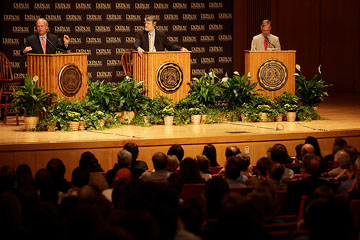 opportunities; guides to DePauw's library resources and information about access to DePauw athletic facilities. (at right: Karl Rove and Howard Dean debate on September 11, 2009, one of many DePauw events which are presented free of charge and are open to the public)
"A community portal seemed a natural step," states Belz, who was joined in the project by Brenton Clough '09, Amanda Doherty '09, Tom Walz '09 and Ryan Tinker '09. He adds, "There is a sense of invitation. Seeing an upcoming event on the general University calendar is not the same as seeing it on a website specific to the community."
The site is accessible here or by clicking "community" in the left margin of the DePauw homepage.
"Though we were delayed a bit by a few technical issues in building the community calendar, we're incredibly pleased to launch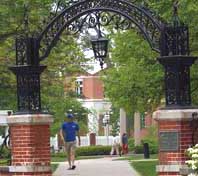 this site," notes Christopher Wells, vice president for communications and strategic initiatives. "Our students did important work putting this together, and we hope it proves to be useful and inviting to our neighbors here in Greencastle."
The Community Portal is the second of two recent community-oriented projects generated from the Management Fellows Program. Last year's launch of the Tiger Express Program marked a partnership between local businesses and the University, where students could spend meal-plan dollars at local restaurants. During the most recent academic year, students spent more than $100,00 through the program.
Back