Washington "Wise Man" Lee Hamilton '52 Returning to Indiana: USA Today
August 17, 2010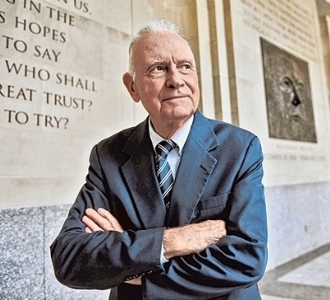 August 17, 2010, Greencastle, Ind. — "After nearly a half-century, Lee Hamilton is packing his books, sorting his papers and preparing to head home to Indiana," begins a USA Today story on the 1952 DePauw University graduate. Susan Page writes, "He is one of the last of the Washington 'wise men,' figures who ruled Congress, led Cabinet agencies and shaped foreign policy during a less partisan era." (photo: Jack Gruber /USA Today)
According to the national newspaper, "He has thrived in Washington, with a reputation for hard work, straight talk and a long-range view of big problems. For decades, he has been tapped for commissions appointed by presidents and Congress to consider the nation's most perilous issues, from security problems at the national lab at Los Alamos, N.M.,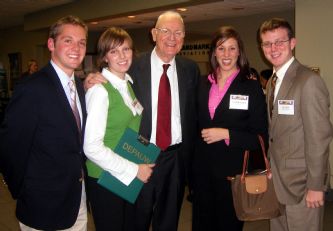 to the disposal of nuclear waste." (at right: Hamilton with DePauw student journalists in 2006)
In fact, Hamilton's interview for the article was interrupted by a phone call from President Obama.
The Democrat served 34 years in the U.S. House of Representatives and later co-chaired the Iraq Study Group and 9/11 Commission. He is now retiring as president of the Woodrow Wilson International Center for Scholars in Washington, D.C., and returning to Indiana where he will continue to direct the Center on Congress at Indiana University in Bloomington.
In the piece, Hamilton shares his thoughts on the presidents he's worked with over the years (Richard M. Nixon: "small talk was hard for him, very hard for him.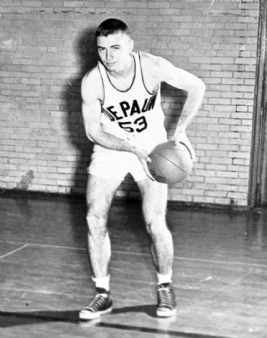 And he literally would break out into a sweat. Once you shifted the conversation, 'How are things in China?' or something, he (became) engaged."; Barack Obama: "I think he's had a remarkable record of legislative accomplishment.")
You'll find the complete feature -- "Lee Hamilton: A statesman comes home" -- at USA Today.com. (at left: as an undergraduate, Hamilton was a basketball standout at DePauw)
Newsweek has called Hamilton "Mr. Integrity," while the New York Times' David Brooks opined of Hamilton, "The country is hungering for leaders like him: open-minded, unassuming centrists who are interested in government more than politics."
In a 2007 interview, Hamilton stated, "I had an undergraduate experience at DePauw University that certainly opened my eyes to a lot of possibilities." Learn more in this story.
Back