University and United Way to Team Up on Community Projects August 28
August 18, 2010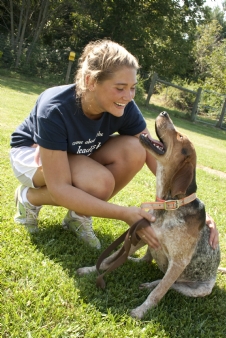 August 18, 2010, Greencastle, Ind. — DePauw University's annual volunteer event for new students, the "First-Year Plunge" is being combined this year with the United Way of Putnam County's "Day of Caring." The goal of the joint event on Saturday, August 28, is "to share resources and bridge gaps between students and community members," notes a story in the Banner-Graphic. (at left: a DePauw student volunteering at the Putnam County Humane Society during last year's First-Year Plunge)
Participants will gather at the Inn at DePauw at 8 a.m. for the United Way Kick-Off Breakfast and to get assignments for projects in the community. The service work take place from 10 a.m. to 3 p.m.
The article by Amanda Junk points out that 85 DePauw students are already registered to take part in the community service projects, and another 40 can be accomodated.
"This year we decided it would be a little less work for both of us and less of a time commitment if we worked together," says Jessie Weasner, assistant director of the civic, global and professional opportunities office at DePauw. "Realizing that we're having these two large events near the same day made sense."
You'll find more details at the newspaper's Web site.
Back