Incoming Student Contributes to 'Dorm Decor' Story in New Orleans Times-Picayune
August 20, 2010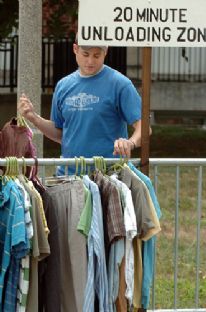 August 20, 2010, Greencastle, Ind. — A story in the New Orleans Times-Picayune on "dorm decor" notes that 18-year-old Andres Adams, who will arrive on campus with other members of DePauw University's Class of 2014 tomorrow, is "photographing places and things he loves around New Orleans to decorate his new home, 825 miles north of here at DePauw University in Greencastle, Ind."
Adams says, "I'll bring in black-and-white photos of street names, locations that have meaning to me. We were taking pictures at Hansen's snowballs, and my mom wants to frame them."
The article points out that the first-year student will also be bringing New Orleans Saints paraphernalia to "Peyton Manning country" (the Saints defeated Manning's Indianapolis Colts in the 2010 Super Bowl). "Adams has only e-mailed and spoken briefly with his roommate. Do boys talk about what the room will look like? 'No.' What's most important in the dorm? 'Staying warm,' he said."

You'll find the complete article at the newspaper's Web site.
DePauw will welcome 642 new students -- including 621 first-year undergraduates -- at tomorrow's opening day. Learn more here.
Back