Adam Brok '10 Continues Walk for Charity
August 21, 2010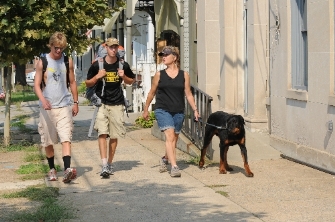 August 21, 2010, Greencastle, Ind. — "This has been a wonderful experience," says Adam Brok, a 2010 graduate of DePauw University who is walking 365-miles across Pennsylvania to raise funds and awareness of homelessness and hunger. Brok's journey, which began August 1, took him through Wernersville, Pa., yesterday, and is noted in today's edition of the Reading Eagle. "The people I've met on the way have been so supportive," Brok tells the newspaper. (Adam Brok is in the center of the photo at left; courtesy Ryan McFadden/Reading Eagle)
The article by Holly Herman points out that Brok was joined yesterday by his second cousin, Stef Brok. It reports that Adam Brok became determined to do something about homelessness and poverty as a DePauw student while spending a semester interning in Philadelphia. His walk from Pittsburgh to Philadelphia is benefiting the Greater Pittsburgh Community Food Bank, the Food Bank of Central Pennsylvania, Philabundance and Project H.O.M.E. in Philadelphia.
"I want to raise people's awareness that there are those who need food," he says.

You'll find the story at the Eagle's Web site.
Back