"Adventure of a Lifetime" Begins Tomorrow for Whitney Guthrie '06
August 22, 2010
August 22, 2010, Greencastle, Ind. — Whitney Guthrie, a 2006 graduate of DePauw University, "is leaving Monday for the adventure of a lifetime, working for Operation Mobilization, a Christian mission organization established in 110 countries around the world," reports the Evansville Courier & Press. In its second feature on Guthrie in a week -- which includes a photo gallery -- the newspaper previews her trip to Santiago, Chile, where "she will work with other prospective missionaries in nine-month rotations, she said, as they decide if missionary work is right for them." (photo: Whitney Guthrie, center, shares a laugh with her parents, Rev. John and Pam Guthie; courtesy: Daniel R. Patmore/Evansville Courier & Press)
Sara Anne Corrigan writes, "She will work alongside these participants as they reach out to Chile's poorest people, filling their most immediate practical needs and teaching them how to provide for themselves in the future ... The 26-year-old daughter of Pam and John Guthrie (he's been the pastor at Henderson's Presbyterian Church for two years) was raised with a strong faith and traditional Christian values, Whitney Guthrie said, but her life always has included secular interests. She majored in Spanish at DePauw University (studied in Spain her junior year) and later spent time in Colorado to learn the art of horse massage."
Guthrie has committed the next three years to missionary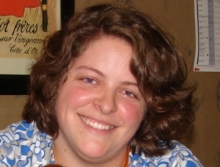 work in Chile. "I know this is what I am supposed to do," she tells the newspaper. "God's been preparing me for this for years."
The complete article is available at the newspaper's Web site.
Learn more in this August 19 story.
Back