Recently Restored 1941 Admission Film Now Available to View
August 23, 2010

[Download Video: "1941 Admission Film" - 28,317kb]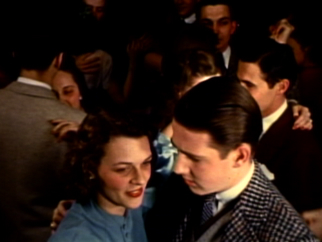 August 23, 2010, Greencastle, Ind. — A DePauw admission film from the early 1940's -- recently discovered in the University's Archives -- has been restored and is now available to be viewed online. The color footage, which had no audio, now includes narration from John Baughman, professor emeritus of history and 1948 DePauw graduate.
In the spring, Ken Owen, executive director of media relations at DePauw and 1982 graduate of the University, spotted a reel of film that had "Wittich" printed on the can, with no other information on what the reel might contain. John J. Wittich '44 was DePauw's director of admissions for many years, and Owen was curious to see what was on the film. Borrowing a projector, Owen screened only a few seconds of the footage before realizing what the can contained.
"The colors are absolutely brilliant," he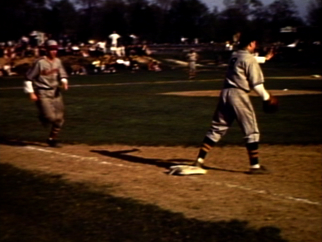 says. "Our films from the 1960s and 70s aren't nearly as vibrant. I guessed the images were from the 40s, and our oldest admission film was from 1953, so it was important to preserve this and with care."
Wes Wilson, coordinator of archives and special collections, sent the film to a lab, where the brittle footage was digitized. When the files returned to campus, Owen corrected the speed (some scenes played faster than others) and made a copy of the film, which he gave to Dr. Baughman to review. A few days later, the professor came to Owen's office and recorded a commentary which now accompanies the footage.
Baughman noticed that Mason and Harrison Halls (which both opened in the fall of 1940) are prominently featured in the film, and the athletic scenes show that Blackstock Stadium had not yet been constructed (it was erected in the summer of 1941). With that information, and given that the film features two DePauw students from the era (Frances Chase '42 and Robert Glass '43), Dr. Baughman determined that the film was most likely created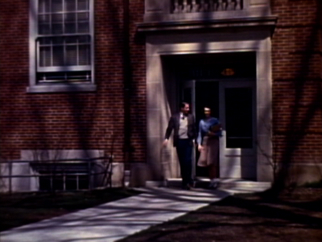 in the spring of 1941.
The footage depicts classroom and dormitory scenes, a baseball game and athletic practices, a dance, and students broadcasting over Indianapolis radio station WIRE from a studio in Harrison Hall.
Access the film, Student Life, here:

[Download Video: "1941 Admission Film" - 28,317kb].
The footage is also available on YouTube and is embedded below.
/p>
In 2007, Owen and Baughman collaborated on a restoration of film from DePauw's centennial celebration in 1937. Access that video via this article.
Back