Bret Joslyn '93 and His Company Featured in Plastics News
August 25, 2010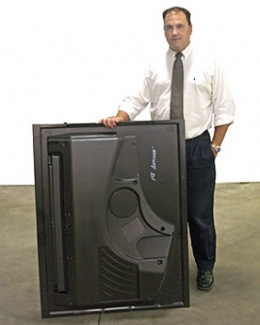 August 25, 2010, Greencastle, Ind. — C. Bret Josyln, president of Joslyn Manufacturing Co. and 1993 graduate of DePauw University, leads the successful family business started by his great-grandfather, but that wasn't always the plan. Growing up, Joslyn recalls that he "never really saw the business as an opportunity -- I almost saw it as a burden." (photo: Bret Joslyn with a thermoformed forklift cover)
"That changed after Bret graduated with a finance degree from DePauw University in Indiana and spent a year working as a bank analyst in Chicago," notes Plastics News. "The job was hardly glamorous, convincing him to go back to the family business. He earned an M.B.A. from Purdue University before joining Joslyn Manufacturing in a full-time management role in 1996."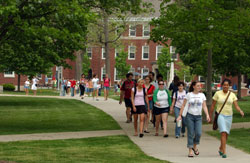 Bret Joslyn and his brother, Brian, are in the process of buying the company from their father, according to the publication. The manufacturing company "still is working to grow," writes Frank Esposito. "The Macedonia (Ohio)-based thermoformer is spending $350,000 on equipment for a new design center, an improved quality-control lab and an enterprise resource planning computer system. Those projects are expected to create three or four new jobs and increase the firm's annual sales -- which were about $4 million last year -- by at least 20 percent.
Access the complete story by clicking here.
Back