Destination Greencastle Event Deemed an "Overwhelming Success"
August 25, 2010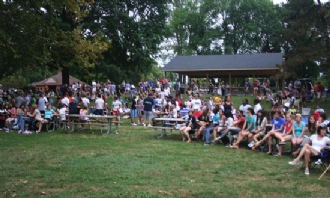 August 25, 2010, Greencastle, Ind. — An event that combined DePauw University's first-year student orientation with community events is characterized as "an overwhelming success" in today's edition of the Banner-Graphic. In recent years, freshmen had an evening event in downtown Greencastle, where they were introduced to local businesses and attractions. This year, the student event was rechristened "Destination Greencastle" and moved to Robe-Ann Park, where the new students mingled with local residents gathered for a concert and the farmer's market. More than two dozen area businesses and non-profit organizations also were represented.
"The event was open to all first-year DePauw students, and featured dinner served by Chief's, Mama Nunz, Sodexo, Putnam Inn, Treasures on the Square and Almost Home," reports Jared Jernagan. "Students also heard from Greencastle Mayor Sue Murray and Greater Greencastle Chamber of Commerce President Laurie Hardwick ... According to Chamber Executive Director Tammy Amor, the Chamber's involvement in the event was an overwhelming success."
"We had over 25 businesses sign up. We had to turn a few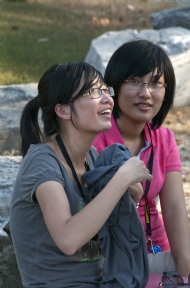 away because they didn't have enough space," Amor tells the newspaper. "I was really excited. To be honest, I wasn't sure if I would get that kind of response, but we have."
Jernagan adds, "Another big positive for the Chamber is the park feels less exclusive than downtown. Robe-Ann doesn't favor businesses of a certain type or location. Registered vendors included restaurants, retail stores, insurance agents, service providers and medical offices.
"We have done it down on the square for the five or six years, so we thought this might be a new opportunity," Julia Sutherlin, director of student life, tells the Banner-Graphic. "Some of the businesses that have been involved in the past on the square are here as well, but we have been able to involve businesses that wanted to be a part of the event in the past, but weren't on the square. We've been able to involve and expand it a little bit."
Access the complete article by clicking here.
Back