Sculpture of Poet and 1894 Graduate Max Ehrmann is Dedicated in Terre Haute
August 27, 2010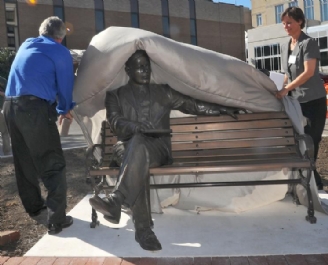 August 27, 2010, Greencastle, Ind. — A sculpture honoring Max Ehrmann, the 1894 DePauw University graduate who penned the famous poem, Desiderata, was dedicated in Terre Haute yesterday as about 600 people looked on, reports today's Terre Haute Tribune-Star. "This is a great opportunity to celebrate a citizen who contributed so much," Mayor Duke Bennett told the crowd as the sculpture by Bill Wolfe, Max Ehrmann at the Crossroads, was unveiled. (photos courtesy Tribune-Star)
Born to Bavarian immigrants on September 26, 1872, "Ehrmann graduated from DePauw University and then Harvard Law School before returning home to practice law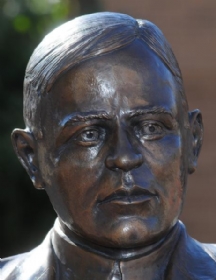 and work in the family's manufacturing business," reports Brian Boyce. "Then, at the age of 40, he decided to quit the practice of law and business and dedicate himself solely to writing. In addition to his many plays and books, his poem Desiderata went on to become a celebrated piece some years after his death."
The creation of a new Max Ehrmann Poetry Competition was announced at the ceremony. According to Jon Robeson of Arts Illiana, "The purpose of this competition is to encourage the writing of new poetry as a contemporary art form deeply rooted in tradition, to foster an interdisciplinary connection between art forms and to honor Max Ehrmann, a treasured regional poet whose works were inspired by a love for his own community, its natural surroundings and the people in it."
The sculpture is installed at North Seventh Street and Wabash Avenue. Its creation was the result of a two-and-a-half year fund drive.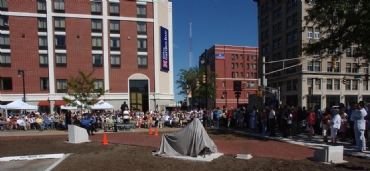 Read more at the newspaper's Web site.
For many years, the origins of Desiderata were mistakenly traced to the year 1692 and a church in Baltimore. Another story in today's Tribune-Star examines that, and cites Wes Wilson, coordinator of archives and special collections at DePauw. Access it here.
Also available is this previous article.
Back