Josh Wyant '08 Appointed Youth Pastor at Greencastle Church
August 30, 2010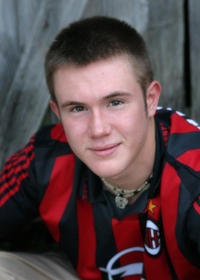 August 30, 2010, Greencastle, Ind. — "I've got a passion for the kids," says Josh Wyant, a 2008 graduate of DePauw University who has joined Lifebuilder Community Church in Greencastle as youth pastor. "I really see them as the up and coming generation of leaders," he tells the Banner-Graphic. "But, more importantly, I really think that as they're children, that's the time when they're really shaped and they're really under the influence of a lot of different factors. I think that's the time they really need the most ministering, help and guidance."
Wyant, who is a student at Trinity Evangelical Divinity School in Illinois, "came to DePauw with thoughts of med school," notes the newspaper. "A single philosophy class in his first semester changed his mind. During second semester, things changed further."
"It was during that second semester that I really felt God calling me into

ministry," Pastor Wyant recalls. "It was really nothing that I would have ever expected to do, but He put it on my heart that, 'This is where I gifted you and this is where I want you.'"
Read more by clicking here.
Back