Lisa A. Poole '12
August 30, 2010
Most students recently returned to DePauw's campus, but junior Lisa A. Poole is beginning the fall semester nearly 7,000 miles away. Poole, a biochemistry major from Crawfordsville, Ind., traveled to South Korea this summer on a Critical Language Scholarship (CLS), and is continuing her studies at Ewha Women's University in Seoul this semester.
A biochemistry student might seem out of place on a language scholarship, but Poole's interest in Korean is both academic and personal. Her mother's family is Korean -- a background that influenced her decision to pursue an Asian studies minor at DePauw.
Besides, she says, as a student with her heart set on medical school, it nice to have a break from her usual studies.
"If I just focus on science all the time, I get so worn out," says Poole, pictured right with members of her CLS host family. "I like having an escape from the quantitative science stuff with the Asian studies minor. I think it makes me better-rounded as a person as well. It's nice to experience different sides of education, and to get a broad view of the whole liberal arts experience."
During her CLS, Poole lived with a host family only a short bus ride from the city of Jeonju, where she attended language classes, participated in cultural activities and performed community service. Even with a full schedule, Poole had time to explore.
"I was really busy, but there really were a lot of opportunities to do what I wanted on my own," Poole says. "I wasn't afraid to go places because of the cost because the program gave us a stipend that covered traveling expenses, going to cafes to meet other Koreans or going to Korean movies. It really was awesome. And all the historical places I really wanted to visit were part of weekend trips organized by the program."
While Korean might easily be confused for Chinese by an outsider, its written form is unique among neighboring languages. What appear to be thousands of unique, undecipherable characters are actually letters and words that are easily pronounced with a little practice. Hangul, the Korean alphabet, is used to write words phonetically, with multiple letters grouped together to form syllables.
"The shapes of the letters are supposed to mirror the positions of your mouth when you speak them," Poole explains. "Once you learn the letters, you can at least sound out whatever is written."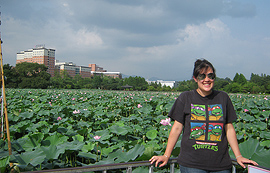 Because of this, Poole says she picked up writing very quickly, but spoken Korean is much more complicated. Nevertheless, she's had plenty of time to practice speaking with other students and the people she meets. She even gets to try it out with her own family.
"When my mom calls, I talk to her in Korean until my efforts are exhausted and we have to revert back to English," Poole says. "I like talking to my mother in Korean because, truthfully, she has forgotten a lot so we're able to just laugh at each other. Because of the CLS, I was also able to talk to my [Korean-speaking] family for the first time without the use of a translator."
At Ewha Women's University in Seoul, Poole is continuing her Asian studies coursework with the hope that it becomes a second major when she returns to DePauw.
"The CLS has really encouraged me to bump my Asian studies minor into a major," Poole says. "I still want to go to medical school, but I'm now toying with the idea of doing something in Korea, as well."
Back