'Service Reunion' of DePauw Alumni Featured on NC TV Station
August 4, 1994
August 4, 1994, Greencastle, Ind. — "It may not look like a class reunion, but this alumni group is renewing school ties," began a story which aired on WLFL-TV, the FOX affiliate in Raleigh, North Carolina. "It's an extension of a DePauw University program that has sent students on public service projects around the world. This week, some graduates have reunited in Raleigh."
John McHenry, a 1977 DePauw graduate, tells the station, "We still have the memory of those original programs in mind and we decided that it was so meaningful in our lives that we wanted our reunions to be more than just coming back to campus and going to the local bar and having a drink together."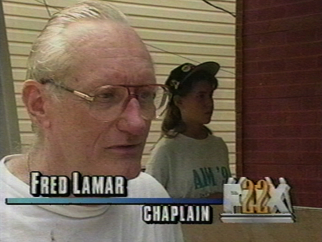 The alumni and families are seen in the piece "repairing homes, building a playground, and strengthening hope," according to the report.
"We're living together, we're enjoying a community, we're reliving old experiences, and hopefully we're transmitting the experience to our children and grandchildren," Rev. Fred Lamar, DePauw's chaplain, tells the station.
The story also includes comments from Wendy (Baptist) Vanderzee '77.
See the report here:

[Download Video: "Alumni Reunite and Give Back" - 6506kb].
Source: WLFL-TV (Fox)/Raleigh, N.C.
Back