"Progress by Increments" Necessary Sometimes, Writes Lee Hamilton '52
August 31, 2010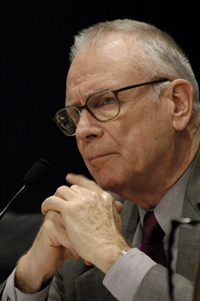 August 31, 2010, Greencastle, Ind. — "As a legislator interested in shaping national policy on any given issue, perhaps the first decision you have to make is whether to approach it in a comprehensive or incremental fashion," writes Lee H. Hamilton in a newspaper op-ed. "In the end, the decision often comes down to a realistic appraisal of what you can actually accomplish." Hamilton, the former longtime congressman and 1952 graduate of DePauw University, weighs in following news that a climate change bill is in limbo for the time being.
According to Hamilton, who served 34 years in the U.S. House of Representatives, "In recent years, members of Congress have often preferred the grand, omnibus approach -- as with this year's health-care and financial reform bills. Big problems require big solutions, the thinking runs, and for a politician, it's hard to resist the temptation of getting credit for solving those problems. Especially since big bills command far more media attention and public interest. Sweeping legislation may be politically more complex, but it is often legislatively simpler. It tends to centralize decision-making in the hands of key legislators. It gives the leadership greater influence as bills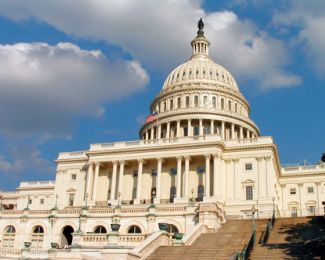 often take final shape in the leader's office. It makes life easier for the president and executive branch, since they only negotiate with the handful of legislators who are most involved in the bill. And a large, complex bill can give members of Congress the political cover to pass necessary but unpopular measures that are outweighed in the public's mind by the overall accomplishment."
The Democrat adds, "The risk, of course, is that sometimes political circumstances simply won't permit an all-encompassing approach -- as appears to be the case with the climate bill. That is why some legislators prefer making progress by increments."
In Hamilton's view, "I've always thought that Americans instinctively lean toward incremental change and are suspicious of sweeping attempts to shift public policy -- as we continue to see with health-care reform. Because taking things step-by-step is more politically palatable, it makes it far easier to show results ... Of course, incrementalism carries its own risks. Sometimes a complex issue -- like immigration reform -- has so many interlocking pieces that trying to make progress on one or two at a time simply creates more problems than it solves." (at left: Hamilton receiving the Eisenhower Medal from Gen. Colin Powell in May 2007)
The director of the Center on Congress at Indiana University, Hamilton concludes, "The question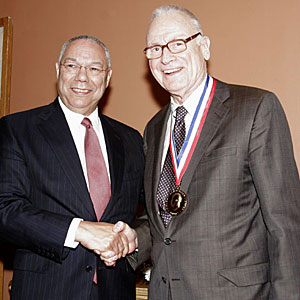 of whether to take a comprehensive or an incremental approach, then, is not an easy one. Legislators have to decide based on a pragmatic assessment of what they can accomplish ... Not everything can be tackled in a grand manner, in other words. A good bit of the art of legislating lies in discerning when it's feasible to go big, and when it's more realistic to settle for smaller -- but more attainable -- goals."
You'll find the complete column at the Web site of Indiana's Brazil Times.
Lee H. Hamilton, who co-chaired the Iraq Study Group and 9/11 Commission, was featured in the August 17 edition of USA Today.
Newsweek has called Hamilton "Mr. Integrity," while the New York Times' David Brooks opined of Hamilton, "The country is hungering for leaders like him: open-minded, unassuming centrists who are interested in government more than politics."
Back