#2-Ranked Tigers Featured on Indianapolis NBC Affiliate
January 21, 1987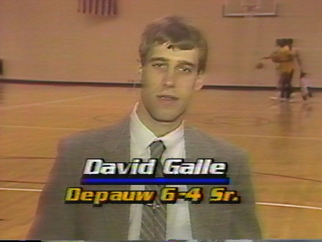 January 21, 1987, Greencastle, Ind. — "We've been ranked pretty high ever since I was a freshman," DePauw University senior basketball player David Galle said during a live interview on Indianapolis NBC affiliate WTHR tonight at 6 o'clock. Galle, a forward on the nation's #2-ranked team in NCAA Division III, was asked if placement near the top of the pack puts any pressure on the Tigers. Galle told the station's Don Hein, "We just try to play one game at a time and don't worry about the ranking all that much."
Galle was interviewed from IUPUI (Indiana University - Purdue University at Indianapolis) shortly before the Tigers played there. Hein's 11 p.m. newscast included highlights from the contest, which DePauw lost 71-67.
The senior, who averages 14 points per game, was asked about the team's depth. He told Hein, "If you watch our box scores you'll at any time find 8 or 9 guys in the scoringh column, and it's not uncommon to find 4 or 5 guys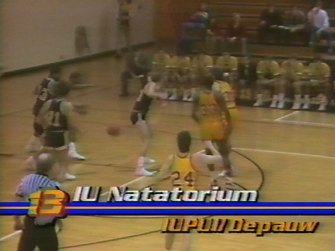 in double figures."
The Tigers fall to 13-2 on the season; IUPUI improves to 12-7.
See clips from both the interview and game footage here:

[Download Video: "WTHR Covers DePauw-IUPUI" - 5822kb].
For the latest, visit the men's basketball team online.
Source: WTHR (NBC)/Indianapolis
Back