"First Friend" Vernon Jordan '57 Discusses President Clinton and Mentions DePauw on Today
August 29, 1996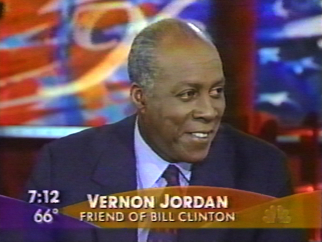 August 29, 1996, Greencastle, Ind. — "Just as surely as Hillary Clinton is the first lady, Vernon Jordan is the first friend," Bryant Gumbel said on NBC's Today this morning. He added, "A quiet, powerful player in Washington, he is the man the president often turns to when he needs either sage counsel or a golfing partner." Jordan, a 1957 graduate of DePauw and member of the University's Board of Trustees, appeared on the morning news program hours after Bill Clinton was nominated for a second term as president at the Democratic National Convention in Chicago.
"He was both melancholy and joyful," Jordan said of President Clinton's demeanor last night. "It was a great moment. Think about it: 50 years old and you're being nominated by your party to be president of the United States for the second time. That's gotta be a good moment."
In Clinton's acceptance speech tonight, Jordan predicted, "I think he wants to talk about his record, talk about his leadership, and talk about the 21st Century and what he and this party hope to do to carry this country into the next millenium."
Jordan, the former president of the National Urban League, humorously recalled that he's no stranger to the Windy City.
"My first job in Chicago was driving a bus for the Chicago Transit Authority immediately after finishing at a little small school in Indiana, DePauw University," he told the NBC program. "I had a great time. I was making $2.25 an hour," he said smiling, "and I'm glad to be back in this town where I did a little growing up."
See video of Vernon Jordan's appearance here:

[Download Video: "Vernon Jordan '57 on Today" - 13,221kb].
On May 22, 1993, Jordan delivered DePauw's commencement address and received the McNaughton Medal for Public Service. Learn more, and access video clips, in this story.
Back