"Unflappable" Brad Stevens '99 Aids Charity, Preps for Coming Season
September 2, 2010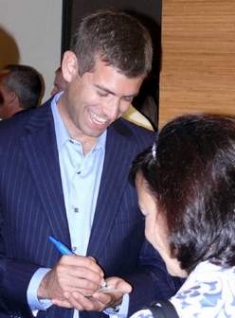 September 2, 2010, Greencastle, Ind. — "No matter how many people are pulling on Brad Stevens -- and it's a fair number from coast to coast -- he remains unflappable." writes Reggie Hayes in the Fort Wayne News-Sentinel. "The Butler University men's basketball coach is calm, friendly, organized, insightful, committed, generous and just about any other positive adjective you can conjure. All of those traits were on display at a two-hour charity auction to help the Special Olympics he squeezed into his schedule Sunday night at Sweetwater Sound." (at left: Stevens signs an autograph at the fundraiser; courtesy Fort Wayne News-Sentinel)
Stevens, a 1999 graduate of DePauw University, led the Bulldogs to the national championship game last season. The coach's "strategic decisions and calming influence captured the attention of the nation," notes Hayes. "Stevens said the fact Butler has been ranked in the Top 25 the last four seasons should quell any extra pressure that could arise from last season's success. He said if Butler had come 'out of the blue' to reach the national title game -- rather than rising a notch or so above previous seasons -- then this year would translate to a new way of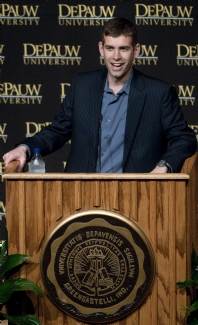 life."
Steve Alford, head men's basketball coach at the University of New Mexico, is one of the organizers of the fundraiser Stevens addressed. He tells the newspaper, "Brad has done a tremendous job (at Butler). It's something he's going to continue. It's hard to get back to the championship game every year no matter where you are, but you'll see a championship-caliber program and style of play from Brad for a long, long time. He's a bright young coach."
You'll find the complete article, "Busy Brad Stevens makes time to help cause," at the News-Sentinel's Web site.
Brad Stevens was an economics major and Management Fellow at DePauw, where he played basketball for four years. In June, a half-hour program on FOX Sports Midwest focused on Stevens' success at Butler and included comments from Bill Fenlon, his collegiate coach at DePauw. On April 13, Stevens returned to his alma mater to deliver the Robert C. McDermond Lecture.
Back