CNN Choosing "Smarm" Over Substance, Opines Prof. Jeff McCall '76
September 4, 2010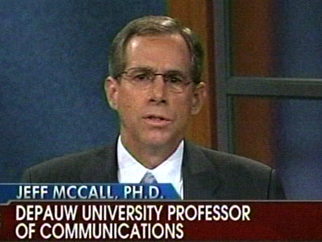 September 4, 2010, Greencastle, Ind. — " CNN's decision to give an hourlong, prime-time news program to disgraced former New York Gov. Eliot Spitzer shows that journalism is out the door and bizarre spectacle is in at the pioneering cable channel that once exemplified high standards in broadcast journalism," writes Jeff McCall, professor of communication at DePauw University, in the Indianapolis Star. In an op-ed, Dr. McCall asserts that the "move by CNN demonstrates why public confidence is plummeting."
McCall asserts, "Spitzer brings no journalistic experience to the show. CNN promotes him as 'a legendary prosecutor and progressive governor.' Here's betting, however, he wouldn't have gotten the CNN gig without his primary credential: his sensational scandal and subsequent resignation as governor for being a frequent client of high-priced hookers. Without that seedy background, Spitzer is just another progressive ex-governor ... Spitzer will earn a reported $500,000 per
year for his bad behavior. No doubt, Mark Sanford and John Edwards are preparing résumés to send to CNN."
The professor notes, "Spitzer's co-host is Kathleen Parker, a respected conservative newspaper columnist who demonstrates independent thinking. Parker won this year's Pulitzer Prize, and her syndicated columns appear in more than 400 newspapers, including the Star. Her placement on a cable news channel makes sense. She could anchor this show on her own. Spitzer, however, has to have Parker co-host to give CNN enough cover to keep the program from being viewed as a freak show."
Sagging ratings and an audience that is decidedly older than the target demographic are the driving forces behind CNN's move, according to Professor McCall. He concludes by pointing out, "Longtime CNN fixtures such as Lou Dobbs and Christiane Amanpour have departed, and now Larry King is ready to retire.King's reported replacement is former British tabloid editor Piers Morgan, who is more widely known to Americans as a judge for NBC's America's Got Talent. Once the Morgan show is confirmed, the CNN/HLN lineup from 8 to 10 p.m. this fall will include a gabby comedian, alarmist crime reporter, judge of amateur singers and dancers, and fallen politician with no moral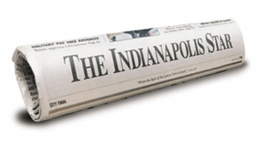 compass. How disappointing to see the Worldwide Leader in News become the worldwide leader in smarm."
Access the complete column at College News.org.
A 1976 graduate of DePauw, Jeffrey M. McCall is the author of Viewer Discretion Advised: Taking Control of Mass Media Influences and has been cited in articles published by more than 100 newspapers. The professor recently discussed the decline of soap operas with Advertising Age and talked with the Christian Science Monitor about President Obama's appearance on The View. McCall has appeared nine times on FOX News Channel's O'Reilly Factor.
Source: Indianapolis Star
Back