Newspaper Offers Writeup of Prof. Nic Pizzolatto's Appearance
September 8, 2010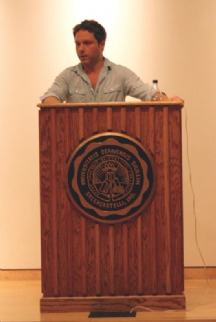 September 8, 2010, Greencastle, Ind. — When creating his first novel, Galveston, Nic Pizzolatto says that "he wrote 'a story he wanted to read' with the intention of drawing in a wide audience," reports Amanda Junk in today's Banner-Graphic. Pizzolatto, assistant professor of English at DePauw, presented a reading on campus last night under the auspices of the James and Marilou Kelly Writers Series. (photo: Banner-Graphic)
"I want (readers) to get whatever they want to out of it," Pizzolatto says. "I know what I want to take away from it, but that's not my aim ... I want them to believe in the characters and be moved by their humanity and maybe without expecting it get their heart broken."
Pizzolatto's book has received widespread praise since its release in June. He has taken a leave from his teaching position at DePauw to develop a screenplay based on his novel and is also working on a project for HBO.
Ken Owen, executive director of media relations at DePauw and 1982 graduate of the University, tells the newspaper, "It's great to see someone from DePauw and Greencastle making such an impact on the national stage."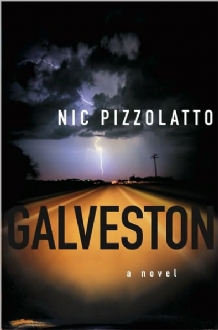 Access the complete report at the newspaper's Web site.
Galveston is a featured selection for Fall 2010 in Barnes & Noble's Discover Great New Writers program.
In a New York Times review published July 18, Dennis Lehane called Pizzolatto's novel "an often incandescent fever dream of low-rent, unbearable beauty ... Galveston empathizes with its characters to a degree I'm hard pressed to recall in another recent novel ... all are brought to life in the fullest blush of their frightened, addled humanity."
Professor Pizzolatto's fiction has appeared in the Atlantic, Oxford American, Best American Mystery Stories and other publications. Between Here and the Yellow Sea was published in 2006 and was named by Poets & Writers magazine as one of the top five fiction debuts of the year and his work has been a finalist for the National Magazine Award.
Back