Ellis and Broecker Notch SCAC Field Hockey Honors
September 9, 2010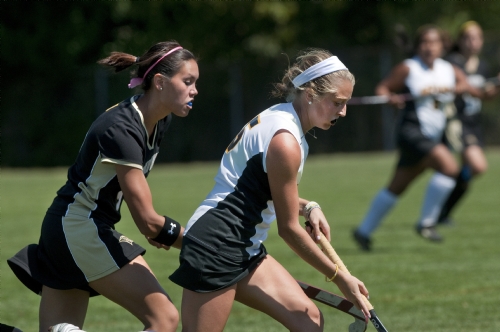 September 9, 2010, Greencastle, Ind. — For their performances in three shutout wins last week, sophomore midfielder Margaret Ellis and sophomore defender Katie Broecker were selected Southern Collegiate Athletic Conference Field Hockey Offensive and Defensive Players of the Week, respectively.
Ellis (pictured left) led the Tigers offense with three goals and three assists as the Tigers blanked Wittenberg (2-0), Trine (5-0) and Lindenwood (6-0). She either scored or assisted in each of the three contests with one assist at Wittenberg, two goals in the Trine game and a goal with two assists in Sunday's home win over Lindenwood.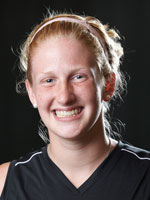 Broecker (right) anchored the Tiger defensive effort which posted three shutouts at the start of the season for the first time in 1985. Led by Broecker, the Tigers gave up only 10 shots and four defensive penalty corners for the week. She shared the honor with Centre's Jennifer Bohnert.
DePauw, 3-0 for the first time since 1999, takes its 3-0 record into Saturday's 1 p.m. home game with Transylvania. The Tigers host Wooster on Sunday at 1 p.m. Both contests will take place on Boswell Soccer Field.
Follow DePauw Athletics on Twitter | Become a Fan of DePauw Athletics on Facebook
Back