President Brian Casey to Join NEH Chairman in Indianapolis Discussion of 'Civility in a Fractured Society'
September 12, 2010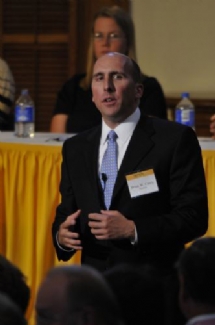 September 12, 2010, Greencastle, Ind. — DePauw University President Brian W. Casey will participate in a September 22 panel discussion led by Jim Leach, chairman of the National Endowment for the Humanities, that will examine "Civility in a Fractured Society." Presented as part of Leach's 50-state "Civility Tour" and sponsored by the Indiana Humanities Council, the program will examine the state of civil discourse and consider how arts, culture and the humanities can help to heal divisions and lead to more meaningful conversations.
The event will take place at the Indianapolis Museum of Art's Toby Theater. Joining Leach and Dr. Casey on the stage will be Rabbi Sandy Eisenberg Sasso of Congregation Beth-El Zedeck; and moderator Kathryn Kennison, the Director of the E.C. and Bertha C. Ball Center at Ball State University.
Members of the public are invited to attend, but pre-registration is required. You may RSVP by sending an e-mail to mkaufmann@indianahumanities.org. Registration will begin at 8:30 a.m., with the discussion commencing at 9. A brief question-and-answer session will follow.
"As Chairman Leach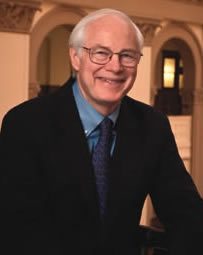 challenges Americans to examine the ways we disagree, he also urges us to consider the ways the humanities can instruct and inform our debates," says Keira Amstutz, president of the Indiana Humanities Council and 1991 DePauw graduate. "This panel discussion will help Hoosiers engage in and champion the kinds of constructive conversations necessary to get us through these challenging times."
Launched in November 2009, Leach's Civility Tour seeks to call attention to the need for civility in public discourse. He worries that America's leaders and citizens have increasingly resorted to extremist rhetoric, abandoning civil debate and discourse for name-calling, and provocative actions. We must reverse that trend, he says, if we are to continue to earn the respect of each other and the nations around the world.
"Civilization requires civility," Leach says. "Words matter . Little is more important for the world's leading democracy in this change-intensive century than establishing an ethos of thoughtfulness and decency of expression in the public square."
Leach took over as chairman of the NEH in August 2009, after serving in the U.S. House of Representatives for 30 years. Representing southeastern Iowa,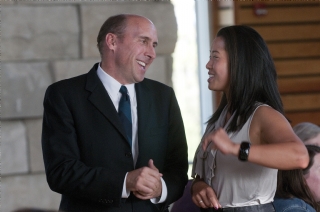 Leach served on a number of committees, and was the founder and co-chair of the Congressional Humanities Caucus.
Brian W. Casey was named DePauw's nineteenth president on February 21, 2008 and assumed the position on July 1 of that year. He came to DePauw from Harvard University, where he was associate dean for academic affairs in the Faculty of Arts and Sciences. Dr. Casey previously served as assistant provost at Brown University and began his career as an attorney with the Wall Street law firm of Davis Polk & Wardwell. He earned a B.A. in philosophy and economics from the University of Notre Dame, the J.D. from Stanford University Law School, where he was a member and article editor of the Stanford Law Review, and a Ph.D. in the history of American civilization from Harvard University.
Visit the Indiana Humanities Council online.
Back