"Intense New Play" by Steven Peterson '77 Premieres in Chicago
September 14, 2010
September 14, 2010, Greencastle, Ind. — "Steven Peterson, who grew up on the North Shore, sets his intense new play, The Invasion of Skokie, one year after the neo-Nazis had been granted the right to march by the U.S. Supreme Court and were planning to put it into practice somewhere around Touhy Avenue in the summer of 1978," writes the Chicago Tribune's Chris Jones. The play by Peterson, a 1977 graduate of DePauw University, received its world premiere by Chicago Dramatists Friday night.
"Interestingly enough, this is the second new play at a Chicago theater within 12 months to be set in Skokie (which is developing quite the body of dramatic literature) and to deal with the reaction of its Jewish residents to a changing America," notes Jones. "Alan Gross' High Holidays was a caustic take on the first generation of Skokie settlers — condemning them for what Gross saw (firsthand) as their self-serving resistance to the sexual and political revolutions of the late 1960s. But Peterson's play offers a more nuanced, warm and sympathetic portrait of a postwar, newly suburban generation whose reluctance to embrace change flowed at least in part from their determination to keep the faith, and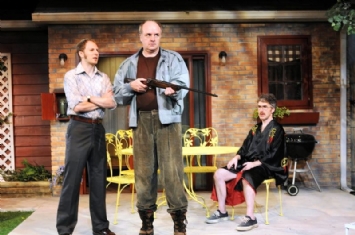 ensure that the world did not forget."
Calling it "a deftly cast and shrewdly staged premiere," Jones concludes, "Skokie -- singular, complex and yet emblematic of so much in American history -- stands tall."
Read the complete review at the newspaper's Web site.
Steven Peterson, who majored in English (composition) as an undergraduate, is a member of DePauw's Alumni Association Board of Directors. Learn more in this previous story.
Back