DePauw Visit by Todd Rundgren Leads to Wells Professorship at IU-Bloomington
September 14, 2010
Also: Todd Rundgren's Ubben Lecture at DePauw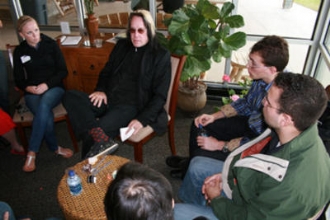 September 14, 2010, Greencastle, Ind. — "Todd Rundgren, the rocker-producer known for his songs Hello, It's Me, Bang the Drum All Day and I Saw the Light, has been selected as the Class of 1963 Wells Professor at Indiana University - Bloomington for this fall," notes an announcement from that school today. It points out, "A confluence of events sparked by a Rundgren speaking engagement at DePauw University led to the IU professorship." (at left: Rundgren talks with DePauw students at the Nature Park before his Ubben Lecture)
Rundgren was brought to DePauw on April 8, 2009, as a guest of the Timothy and Sharon Ubben Lecture Series. Ken Owen '82, executive director of media relations for the University, coordinates the Ubben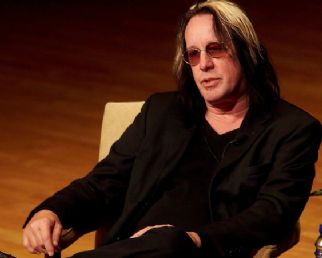 Series and has known Rundgren for years, having interviewed him five times during his career in television news. Owen moderated the DePauw event. In the audience that night was Glenn Gass, a professor at IU's Jacobs School of Music, who also knows Rundgren and Owen. After the program, the three men talked at Almost Home in downtown Greencastle, and Rundgren shared how much he enjoyed interacting with a college audience.
The musician and technology pioneer will teach for two weeks at IU as part of a four-week Wells Scholar course, "The Ballad of Todd Rundgren: Musical Journeys of a Lifetime."
"Todd is a treasure trove of memories, knowledge, stories," says Gass (whose father, Clint, is professor emeritus of mathematics at DePauw).
"This class is a way for him to celebrate what he's done and allows him to share his experiences with students who really want to hear what he has to say." (at left: Gass, Rundgren and Owen after the musician's concert in Indianapolis Saturday night)
In IU's announcement, Gass credits Owen, calling him "a huge Todd scholar -- Todd to him is like the Beatles to me."
Access a summary of Todd Rundgren's Ubben Lecture at DePauw --including video clips and photos -- in this article. Also available are two photo galleries from his visit (1, 2). His interview with student radio station WGRE is embedded below.
Back