DePauw Discourse 2010
September 14, 2010
How much information do you consume in a day? It's likely that today's college students, through online news aggregators and social media networks, learn more about the world before lunch than most of their ancestors did in a lifetime. As our perception of what is news and what is old changes, journalists are adapting by tapping into these new media resources.
So far, the results have been mixed. Social media gave millions of Iranians protesting their elections a voice in the world press, while ex-USDA official Shirley Sherrod was a regrettable and avoidable casualty of a viral video.
"Clearly, there are times when Twitter or other new forms of social media can bring pieces of information more rapidly to the public," says Robert M. Steele '69, Phyllis W. Nicholas Director of The Janet Prindle Institute for Ethics and distinguished professor of journalism ethics at DePauw. "The question is: what's the distinction between information and journalism?"
Steele joins a group of distinguished guests and alumni to address this question and others during DePauw Discourse 2010, Sept. 23-24. The topic of this year's Discourse is "Peril or Promise? Journalism in the Age of New Media."
"Our goal is to explore the world of journalism at a period when just about everything is changing, and how journalism connects with citizens, communities, society and democracy," Steele says.
Joe Scarborough and Mika Brzezinski, co-hosts of MSNBC's "Morning Joe," are among 17 scheduled speakers this year, including David W. Greising '82, general manager of The Chicago News Cooperative; Clark Hoyt, former public editor of The New York Times; Marianna Spicer-Joslyn, CNN News Group executive director for news standards and practices; and Mary Leonard Ramshaw '70, deputy managing editor of The Pittsburgh Post Gazette. A full list of DePauw Discourse 2010 speakers is available at the event's website.
"The journalists of this era, whether they are 23 or 63, have to do much more, faster, and get it out to the public quicker," Steele says. "But what happens when we process a lot more information as journalists? How can we maintain our ethical standards?"
This discussion isn't new to DePauw. A century ago, a group of DePauw student journalists gathered to form Sigma Delta Chi, an honorary fraternity dedicated to journalistic integrity. The organization, which changed its name to the Society of Professional Journalists (SPJ) in 1988, continues to encourage the free practice of journalism and advocates high standards of ethical behavior. Since the founding of SPJ, scores of DePauw graduates have left their mark on the profession.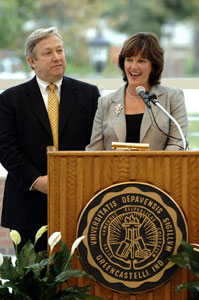 "Journalism is a huge part of the history of DePauw that Discourse had never touched on," says Joyce Taglauer Green '75, DePauw Discourse chair (pictured right).
Green says she and other members of The Washington C. DePauw Society created DePauw Discourse to bring alumni back to campus in a meaningful way.
"Our thought was, let's create an event where we bring alumni to campus, and involve faculty and students," Green says. "We've included special speakers, too, but if you look at the DePauw family over the decades, we have so many interesting alumni, so why not try to use them?
"I think Discourse creates a comfortable atmosphere where we're focusing on a topic, not each other," Green adds. "It's a great time for students to network and get to know our alumni."
The format for DePauw Discourse has changed almost yearly. After the inaugural event, Green says that many visiting alumni were envious of the students and wished they could return to school. During the following Discourse, organizers implemented back-to-school sessions where returning alumni could attend lectures given by DePauw faculty members. This year, new breakout sessions will allow attendees to choose from a variety of topics.
"As more and more people come to Discourse, [the breakout sessions] are a format that I like because we're offering different topics for different groups," Green says. "We want to offer a lot of discussion, which goes along with the title: Discourse."
---
Established in 2004, DePauw Discourse is a symposium that brings some of the nation's leading thinkers, journalists and policymakers together with the University community. Previous participants have included: L. Paul Bremer, Madeleine Albright, Lee H. Hamilton '52, Vernon E. Jordan '57, Robert F. Kennedy Jr., Samantha Power, Bill McKibben, Roger Wilkins, Margaret Spellings, Wallace J. Nichols '89, Bob Herbert, Allan Hubbard, Paul Volcker and Allan Hubbard.
All DePauw Discourse 2010 sessions are open to the public. Registration is required only for meals and special invitation events. More information, including a schedule of shuttles between the Memorial Student Union Building and the Prindle Institute, can be found at the DePauw Discourse website.
A limited number of spaces are available for students to join DePauw Discourse speakers and alumni guests at a Sept. 24 noon Roundtable Luncheon in The Janet Prindle Institute for Ethics. Students can reserve a space by Thursday, Sept. 16, by e-mailing Melissa Boyd at mboyd@depauw.edu.
Back