Sue Marcos '62 Receives HS Alma Mater's Distinguished Alumni Award
September 17, 2010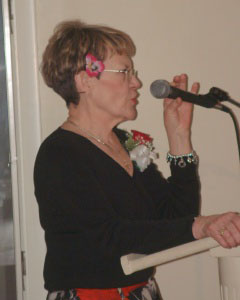 September 17, 2010, Greencastle, Ind. — Susanna (Matthews) Marcos, a 1962 graduate of DePauw University, is one of five recipients of the Albion (Michigan) High School Alumni Association Distinguished Alumni Award.
The Battle Creek Enquirer notes that Marcos majored in political science and French at DePauw. "No stranger to work, from 1985 until most recently, she was the president/CEO of Greater Albion Chamber of Commerce. Along with that enormous responsibility, Sue made time to be involved in the community of which she loves. She was secretary, member of the board and the first woman president of Albion Rotary Club, co-founder, co-chair, then tri-chair of Greater Albion Alliance, and co-founder and member of the board of Albion High School Alumni Association. In 1986 she earned Albion Business & Professional Woman of the Year Award. For 15 consecutive years she was the recipient of the
Michigan Chamber Professional Award. Along with other numerous accomplishments, Sue was also inducted into the Harry Bonner Multicultural Hall of Fame."
The piece adds that Marcos has been "instrumental in promoting international understanding. Being visionary and having the will to succeed, Sue has facilitated the exchange of more that 2500 young people and adults from the United States and France first through Youth for Understanding, then through the Albion Sister City Committee. Sue, Nous saluer vous ...We salute you."
Access the article at the newspaper's Web site.
Back