J. Nichols '89 Quoted in CNN Story on Turtle Poaching
September 2, 2010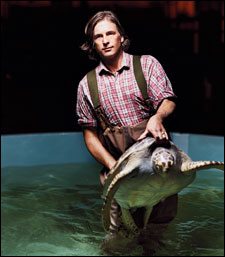 September 2, 2010, Greencastle, Ind. — "Very few poachers are caught or arrested each year," marine biologist Wallace J. Nichols tells CNN, which notes that the scientist "has been tracking sea turtles' behavioral patterns throughout Latin America, Asia and the United States." Dr. Nichols is quoted in a story on the conservation group, La Sociedad Ecológica del Occidente, which works to protect on Mexico's northwest Pacific beaches.
"Poaching remains a big problem in Mexico partly because the people who buy sea turtles are often powerful, and partly because it's not a high priority" for law enforcement, he says in the article.
You'll find the full story at CNN.com.
Nichols, who goes by his middle initial, is a research associate with the California Academy of Sciences and founder/co-director of Ocean Revolution. He is responsible for pioneering research on the migration of sea turtles. His work has been featured in National Geographic, Scientific American, TIME and Newsweek, and he was seen in Leonardo DiCaprio's documentary, The 11th Hour. He returned to DePauw on May 23 to deliver the principal address to the University's Class of 2010, "You Are Lovers and Fighters."
Learn more in this recent article.
Back