Tigers 2-0 After SCAC Football Victory at Centre
September 18, 2010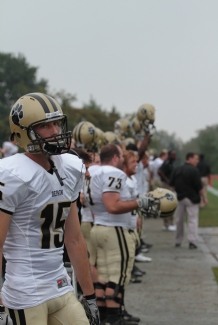 September 18, 2010, Danville, Ky. — DePauw University prevailed in a hard fought football game in Kentucky tonight, holding back Centre College 21-16 in the Southern Collegiate Athletic Conference opener for both teams.
Centre (1-2, 0-1 in the SCAC) took an early 7-0 lead, but the Tigers (2-0, 1-0) battled back to tie the game and take a lead they never relinquished. A final drive by the Colonels was stopped by the DePauw defense.
Senior quarterback Michael Engle, last week's SCAC Offensive Player of the Week, connected on 29-of-36 passes for 252 yards and one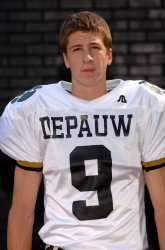 touchdown as well as an interception. He completed ten passes to Alex Koors and nine passes to Brayden Dahlstrom. With his performance tonight, Koors (pictured at right) moved ahead of Dan Ryan '03 into third place on the all-time receptions list.
Jon Ellis led the Tiger rushing attack with 50 yards on 13 carries, including a touchdown. Derrick Karazsia picked up 40 yards on 11 rushes and a TD.
Next Saturday, the Tigers return home for a 1 p.m. SCAC game versus Sewanee (University of the South).
For comprehensive coverage, visit the football team's official online page.
Pre-orders are now being accepted for the 2010 Monon Bell DVD. Learn more here.
Back