DePauw and Greencastle Featured in Chicago Tribune's Travel Section
September 19, 2010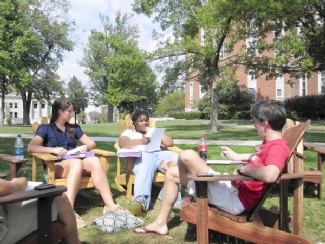 September 19, 2010, Greencastle, Ind. —DePauw University and Greencastle are featured in a Chicago Tribune article, "College towns aren't just for kids: Homes to 7 liberal arts schools that are well worth a visit." Alfred Borcover's article in the newspaper's travel section takes a look at "selected towns with top-ranked liberal arts schools in seven Midwestern states."
Of Greencastle, he writes, "The town of 10,000, founded in 1831, has several claims to fame. John Dillinger staged a bank heist here (Central National Bank in 1933). It's the county seat of Putnam County, which has nine historic covered bridges, and of course, it's home to DePauw, founded by the Methodist Church in 1837."
The text continues, "The school, 175 miles

south of Chicago, with 2,400 students, has 36 major buildings on its 695-acre campus, which includes a 520-acre nature park with hiking and biking trails. DePauw's music school offers an array of free concerts. For a quick bite, try Marvin's, a campus hangout for generations, known for its garlic cheeseburgers."
The article is accompanied by a color photo of DePauw students studying on East College lawn, which is included at the top of this piece.
Access the story at the Tribune's Web site.
Back