NPR's Morning Edition Discusses Power of Touch with Prof. Matt Hertenstein
September 20, 2010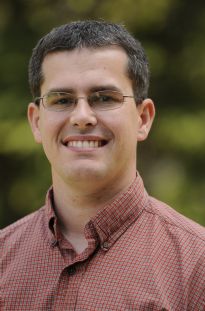 September 20, 2010, Greencastle, Ind. — An NPR report on the benefits of touch -- which aired this morning on the national public radio network -- included comments from Matt Hertenstein, associate professor of psychology at DePauw University, whose research has received wide attention before.
Even the simple act of holiding hands can reduce stress and blood pressure levels, noted the report by Michelle Trudeau, which was heard on Morning Edition. It added, "Handholding or hugging also results in a decrease of the stress hormone cortisol, says Matt Hertenstein, an experimental psychologist at DePauw University in Indiana. 'Having this friendly touch, just somebody simply touching our arm and holding it, buffers the physiological consequences of this stressful response,' says Hertenstein. In addition to calming us down and reducing our stress response, a friendly touch also increases release of the oxytocin -- also called the 'cuddle hormone' -- which affects trust behaviors. 'Oxytocin is a neuropeptide, which basically promotes feelings of devotion,
trust and bonding,' Hertenstein says. Oxytocin levels go up with holding hands, hugging — and especially with therapeutic massage. The cuddle hormone makes us feel close to one another. 'So it really lays the biological foundation and structure for connecting to other people,' says Hertenstein."
The professor also discusses recent research on the orbital frontal cortex of the brain. It responds to friendly touch as it does to a tasty treat or pleasing aroma.

"A soft touch on the arm makes the orbital frontal cortex light up, just like those other rewarding stimuli," Dr. Hertenstein tells NPR. "So, touch is a very powerful rewarding stimulus -- just like your chocolate that you find in your cupboard at home."
Audio and text of the report are available at National Public Radio's Web site.
Hertenstein's research on communicating through touch led to an interview on February 23 by ABC's Diane Sawyer, the same day his work was highlighted in the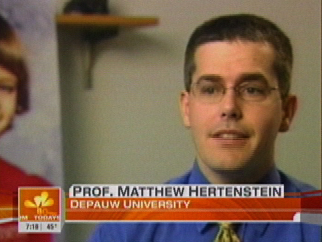 New York Times. It's also been spotlighted previously on NPR.
The professor also looked into the correlation between smiling in yearbook photos and whether subjects became divorced later in life. That study received worldwide attention since it was published last spring in the journal Motivation and Emotion. Coverage began in British media outlets, and spread to United Press International, Yahoo! and a piece which aired April 16, 2009 on NBC's Today. The research was included in the New York Times Magazine's "Ninth Annual Year in Ideas" and was cited by India Today, New Scientist and British Columbia's Province.
Visit Professor Hertenstein's Emotion Lab online by clicking here.
Back