Women's Golfers Second Halfway Through O'Brien National Invitational
September 20, 2010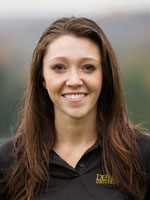 September 20, 2010, Greencastle, Ind. — At the second annual O'Brien National Invitational, which is being played at the Warren Golf Course at the University of Notre Dame, "The 13-time defending NCAA Division III women's golf champion and No. 1-ranked Methodist University holds a slim lead over the field," reports this morning's South Bend Tribune. "The Monarchs shot a 316 and have a one-stroke lead over No. 4-ranked DePauw (317) and a two-stroke lead over No. 3 Wisconsin-Eau Claire."
Taylor Beaty (pictured) is tied for fourth after shooting a 76.
The two-day tournament wraps up today.
Access the item at the newspaper's Web site, or visit the official online page of the Tiger women's golf team.
Back