Article Cites 2005 Discourse Remarks by Paul Volcker
September 21, 2010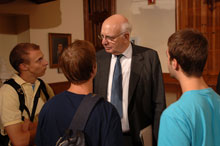 September 21, 2010, Greencastle, Ind. — An article examining "Smart Multilateralism and the United Nations," written by the Heritage Foundation's Kim R. Holmes, cites remarks made during DePauw Discourse 2005. It states, "Former Federal Reserve chairman Paul Volcker, who was tasked with leading the U.N. investigation into the Oil-for-Food scandal, concluded that reform was not only necessary, but critical to the future of the organization. He told an audience at DePauw University in 2005: 'The simple fact is that the cheating, the corruption, the absence of disciplined administration has cost the United Nations grievously. Its competence [and] its honesty has been called into question. As a result, its credibility is undermined. And, if its competence and its credibility is undermined, so inevitably is any sense of its legitimacy.'" (photo: Paul Volcker meets with DePauw students following his 2005 address)
Dr. Holmes is the vice president for foreign and defense policy studies and director of the Kathryn and Shelby Cullom Davis Institute for International Studies at the Heritage Foundation. He authored the book, Liberty's Best Hope: American Leadership for the 21st Century.
Read the complete essay by clicking here.
A summary of Paul Volcker's September 15, 2005 speech at DePauw, including audio clips, can be accessed here. Also available is an article on his October 8, 2003 Timothy and Sharon Ubben Lecture at the University.
The 2009 edition of DePauw Discourse, with a theme of "Peril or Promise? Journalism in the New Media Age," begins Thursday. The event will be keynoted by the co-hosts of MSNBC's popular Morning Joe, Joe Scarborough and Mika Brzezinski, who will hold an interactive dialogue in Kresge Auditorium Friday night. Learn more in this story, and view a complete schedule of Discourse activities here.
Back