T-Mobile and COO Jim Alling '83 Partner with Wal-Mart on Cellphone Venture
September 14, 2010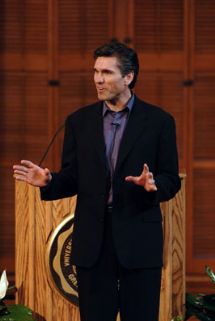 September 14, 2010, Greencastle, Ind. —"Wal-Mart Stores Inc. will offer a cellphone plan under its own brand, a move that the company hopes will bolster its position as a low-cost provider of wireless services," reports the Wall Street Journal, which notes that the Wal-Mart Family Mobile Plan will run on T-Mobile USA's network. Shayndi Raice writes, "Jim Alling, chief operations officer for T-Mobile USA, said the two companies were able to use their market clout with device makers to get lower prices."
Alling, a 2003 graduate of DePauw University, tells the newspaper, "We came up with the
ability to leverage each others strengths. Wal-Mart is great at purchasing. We have relationships with the device providers."
Access the story at the Journal's Web site.
Formerly the president of Starbucks Coffee International, Jim Alling was back on the DePauw campus March 13, 2007 to present the Timothy and Sharon Ubben Lecture, "Growing Big, Staying Small at Starbucks." A summary of the speech -- complete with photos and video and audio clips -- can be found in this previous article.
Back