Prof. Kevin Howley Contributes to September 11 in Popular Culture: A Guide
September 23, 2010
September 23, 2010, Greencastle, Ind. — Kevin Howley, associate professor of communication at DePauw University, is among 68 scholars who have contributed essays to September 11 in Popular Culture: A Guide. Published by Greenwood, the book is edited by Amy M. Damico and Sara E. Quay. Dr. Howley examines "The Twin Towers in Film."
"Each chapter in this book contains a chronological overview of the sea of changes in everyday life, literature, entertainment, news and media, and visual culture after September 11," states the publisher's synopsis. "Shorter essays focus on specific books, TV shows, songs, and films."
Howley's piece begins, "In the years since September 11, 2001, a handful of narrative features -- and a slew of documentary films -- have taken up some aspect of that sad and terrible day. With relatively few exceptions, however, U.S. filmmakers have shied away from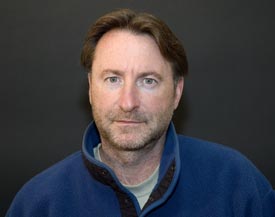 incorporating visual references of the Twin Towers in their stories. Three post-9/11 films demonstrate how images of the Twin Towers are inscribed with and accumulate meaning over time: a fact not lost neither on the architects and perpetrators of the attacks -- whose targets were potent symbols of American economic and military power -- nor on the filmmakers whose stories of love, retribution and redemption offer a way to make sense of those seemingly incomprehensible crimes."
The professor then analyzes Martin Scorsese's Gangs of New York, Steven Spielberg's Munich, and 25th Hour by Spike Lee, who visited DePauw in 2003 shortly after the film's release.
Learn more and order the book at Amazon.com.
Kevin Howley is the editor of the textbook, Understanding Community Media and authored Community Media: People, Places, and Communication Technologies.
Back