Banned Books Week
September 27, 2010

Harry Potter and Huck Finn never met in their adventures, but they'll share a shelf at libraries across America during Banned Books Week, Sept. 25 to Oct. 2. The weeklong celebration of our freedom to read began in 1982 in response to an increase in the number of books being challenged in the nation's libraries and schools.
Banned Books Week has continued annually, and its need has not diminished. According to the American Library Association's (ALA) Office for Intellectual Freedom, there were 460 recorded attempts to remove materials from libraries last year and many thousands more since the organization began counting in 1990.
Three books by Lauren Myracle -- ttyl, ttfn, and l8r, g8r -- topped the ALA's Top Ten List of the Most Frequently Challenged Books of 2009. Written entirely in texting shorthand, Myracle's books were challenged for sexual content and drug references. Stephenie Meyer's popular Twilight series was challenged on religious grounds, evoking opposition to J.K. Rowling's Harry Potter novels for promoting witchcraft. And it's not just new books that are being challenged. Classics such as Harper Lee's To Kill a Mockingbird and J.D. Salinger's Catcher in the Rye are perennial contenders for the distinction of being the most challenged book.
"Not every book is right for each reader, but we should have the right to think for ourselves and allow others to do the same," said ALA President Roberta Stevens in a press release on the organization's website. "The founders of this nation protected freedom of expression based on their conviction that a diversity of views and ideas is necessary for a vital, functioning democracy. Danger does not arise from viewpoints other than our own; the danger lies in allowing others to decide for us and our communities which reading materials are appropriate."
"We absolutely should pay attention to what our own children are reading, but we shouldn't be making decisions for other families," agrees DePauw's director of libraries, Rick E. Provine.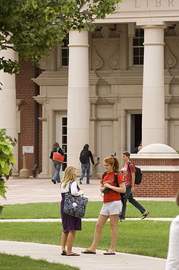 Although university libraries are rarely affected by calls to ban books, Provine thinks that all librarians should recognize Banned Books Week to bring attention to the issue.
"Librarians care about this issue because we care about the freedom of information," Provine says. "We don't face the same outside pressure at DePauw as community libraries do, but it's important for us to educate faculty members and students about the issue of book censorship because our library is a luxury that some people do not have."
A collection of banned books will be on display inside Roy O. West Library throughout Banned Books Week. Organizers have also planned a Read-Out in the library from 11 a.m. to 1 p.m. on Wednesday, Sept. 29, during which attendees are welcome to read passages from their favorite banned or challenged works.
Deborah R. Geis, associate professor of English and chair of the English department, was one of many participants during last year's Read-Out. She chose to read Howl, a poem by Allen Ginsberg, whose publisher, Lawrence Ferlinghetti, was charged with obscenity in 1957 for importing printed copies. Judge Clayton Horn decided in Ferlinghetti's favor, declaring that the Howl was of "redeeming social importance."
"Of course, there is obscenity in Howl, but obscenity is often just an excuse when people want to ban a book," Geis says. "Most books are banned because their content is subversive. Howl is known as the poem that gave birth to the anger and the political uproar of the Beat Generation. It was dedicated to a friend named Carl Solomon who had been institutionalized for insanity. Ginsberg made his ode to Solomon an ode to his entire generation. ... From the perspective of somebody who teaches classes on contemporary literature, works such as Howl are pivotal in the understanding of American culture."
"All of us who really care about literature, and all of us who really care about freedom of speech, should be involved with Banned Books Week because it is appalling to think that books are still being banned in this country," Geis adds.
More information about Banned Books Week can be found on the event's website, including a map of book censorship in the United States from 2007-2010.
Back